Music at Aboyne aims to bring regular live music performances to Aboyne and the wider Deeside area. So far, it has brought a number of young (and not so young) musicians to play live in Aboyne Community Theatre and in Finzean. They come in twos and threes and fours – playing a variety of music from all periods. Some play accessible classical music, some jazz, some Scottish traditional. We have even had a tribute band – Simon and Garfunkel by Bookends – which provided much delight and look forward to welcoming more.
Thursday 18th November at 7.30pm
Finzean Community Hall
The Alkyona Quartet present fresh imaginative interpretations of both well-known and hidden gems of the string quartet repertoire.
The musicians are well known for their warm connection to audiences and their vivacious performances – so appropriate when their name is Greek for 'kingfisher'!

Although the quartet were only formed in London in 2018, they have performed at a number of leading venues and have received a number of prestigious awards, including the sponsorship by the Tunnell Trust which brings them to Aberdeenshire.
In FInzean, they will perform
Shostakovich: Two Pieces for String Quartet
Janacek: String Quartet No. 2 Intimate Letters
Interval 
Schubert: String Quartet No. 13 in A minor (Rosamunde), D. 804, Op. 29

This concert is run by Aboyne Arts & Theatre Development Group in collaboration with LiveLife Aberdeenshire.  It is sponsored by Chamber Music Scotland, with funding provided by Creative Scotland and is supported by the Tunnell Trust.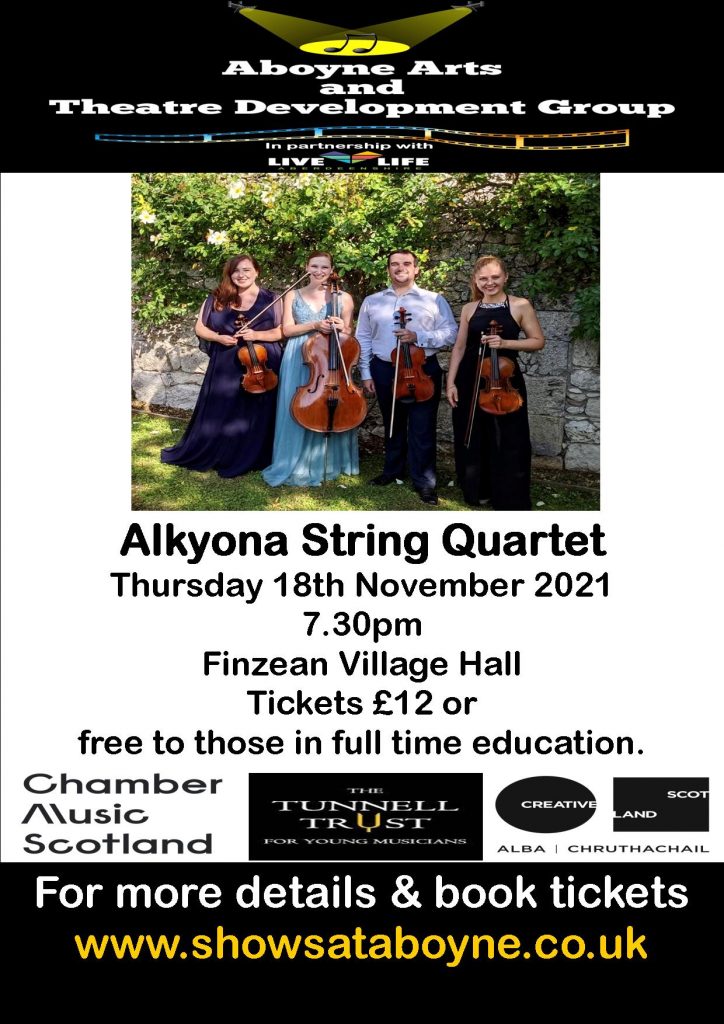 THE LEGENDS OF AMERICAN COUNTRY SHOW
Friday 19th November at 8pm
Now seen by over 350,00 fans live and watched by millions on social media and TV around the world Europe's No.1 multi award winning Country music show "The Legends of American Country" is now firmly established as the top touring production of its kind. Now playing around 150 live shows per year to sold out audiences performing in some of the most prestigious venues in the UK and Ireland. The 2021 tour will showcase highly acclaimed tributes to icons like Dolly Parton, Johnny Cash, Don William, Patsy Cline and Kenny Rogers and new tributes to icons Hank Williams, Charley Pride, Glen Campbell, Tammy Wynette and Jim Reeves with countless other well known hit songs in this must see country musical extravaganza . The show features 3 highly acclaimed professional singers in Joe Moore, Tracey Mc Auley and Anthony Mc Brien who are all accompanied by a superb live band of musicians with that real authentic western sound coupled with an authentic stage set and state of the art production that is sure to transport you all the way hand clapping and toe tapping to Nashville and back in one night. One things for sure if it's Country music you like then this is the only show in town which has received over 2,000 5 star reviews on social media and last April won the coveted Hot Country TV award for The best country show in Europe to a televised audience on Sky TV.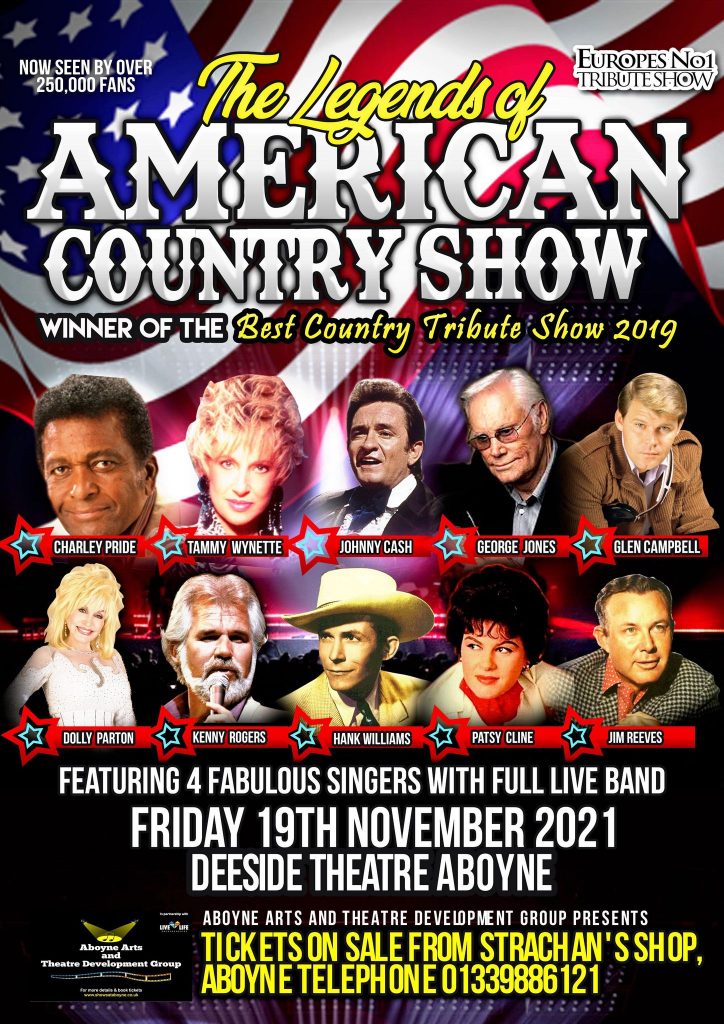 BRANDON McPHEE CHRISTMAS CONCERT 2021
Saturday 11th December at 7.30pm
Every now and then a rare talent emerges that stands head and shoulders above their peers.
In the accordion world in his time that person was Jimmy Shand. In this generation it is Brandon McPhee.Not only has Brandon got that magic touch on the accordion his velvet tones has lead him to multiple awards as an accomplished singer.
We are delighted to welcome Brandon & guests to Aboyne to perform their 2021 Christmas Concert.  Come along for what is sure to be a night of festive frivolity.